We've seen aggressive collection tactics by tax assessors and the attorneys they employ, but nothing quite like Sylvia Romo in Bexar County. With a cavalier attitude toward delinquent property tax owners, Romo's message is clear, "Pay your taxes and don't ignore us". (see the complete article below) If you owe delinquent property taxes, be prepared to face not only stiff penalties and interest charges, but also the possibility of asset seizure and even foreclosure.
So how do you stay out of Ms. Romo's sights? Obviously, pay your property taxes on time. However, in this difficult economy many Texas property owners do not have the funds available to meet their tax obligation.
Other options available to pay property taxes?
Installment Plan with the Tax Assessor
Deferral Programs for Over 65 & Disabled Homeowners
Property Tax Loan - A property tax loan will immediately stop the added penalties, interest, attorney fees, and pending lawsuits for the county. Most lenders offer flexible loan terms with extended repayment schedules. Loans are generally available for almost any type of real estate as long as the borrower is not in bankruptcy and the property is reasonably maintained. This includes residential, commercial, investment properties, and vacant land.
__________________________
Tax delinquents get visit by Romo
By Vicki Vaughan - Express-News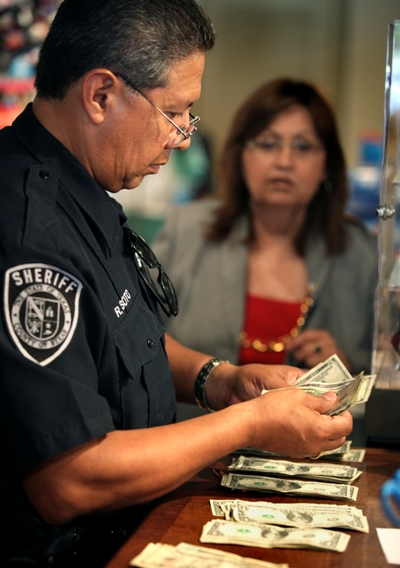 Bexar County Tax Assessor-Collector Sylvia Romo marched into three businesses Friday to deliver the bad news: unless each owner paid his delinquent property taxes, his store would be padlocked and the property sold to the highest bidder.
Almost 17,000 property owners who owe a total $37.16 million in back taxes will get warning letters within days, Romo said at a media conference at her downtown office Friday. They have 10 days to pay or they will be sued.
Then there are those who've ignored repeated warnings and numerous phone calls about what they owe, she said. "This is not something we want to do," Romo said, "but think what the schools can get for almost $40 million. And this tax revenue is needed to help pay for law enforcement and for roads." "We'll seize what we can," she said, before charging off in her Chevrolet Uplander backed by a phalanx of Bexar County sheriff's deputies on motorcycles and SUVs.
The first stop was Culebra Meat Market No. 14, 6565 Babcock Road, Suite 1, where the owner owed $14,916.27. When an employee said the owner wasn't around, deputies executed a tax warrant and seized $119 in cash that was in the register. Told there was a safe on the property, Romo briefly consulted with a locksmith who accompanied her, but she decided not to have the safe drilled.
"I think they're playing cat and mouse," she said, adding that tax delinquents have gotten a minimum of six notices, including many phone calls, that their taxes were due. Deputies locked the meat market and plastered a red sign on the front that the property was seized by the Bexar County Sheriff's Office. A short time later, the market's owner, Juan G. Ramirez, said he would make arrangement to pay the taxes. Although there are about a dozen Culebra Meat Market stores, Ramirez said they have different owners. Romo's office said that the Culebra Meat Markets collectively owe $84,000 in property taxes.
Then it was on to Tim Smoot Electric Inc.'s showroom at 17319 San Pedro Ave., which owes $29,823.44 in property taxes. The owner wasn't present, but Romo reached the shop's manager by phone. The manager offered to make a payment of $10,000 Monday, but Romo ordered that a white Chevrolet Silverado truck and a trailer be seized as collateral while a payment deal is worked out. "The business will continue to operate," Romo said. "The say they want to make payroll today and I don't want the employees to be punished."
Then it was on to Fleet Feet Sports at 6408 N. New Braunfels Ave. in Sunset Ridge, which owed $4,298.30. As several employees huddled in the back, deputies seized the cash in the register and counted the credit card receipts. Total: $782. Then the store's owner, Carroll Voss, arrived and huddled with Romo and two deputies. He told Romo he'd pay in full and he headed to the bank to get a cashier's check. "He didn't take us seriously or had other priorities," Romo said. "But this is a success story." By 1 p.m., Romo's office had assurances from Ramirez, the owner of Culebra Meat Market No. 14, that he would make arrangements to pay, and that his first payment would be made Friday. The lock will come off after the payment is made, Romo said.
Bexar deputies, sans Romo, then served a tax warrant at a fourth business, Rumi Lounge at 12730 N.W. Military Highway, where owner Dan Blagg owed $3,578.10. Blagg got the cash to pay the debt, blaming his nonpayment on the fact his business has run through three bookkeepers. The last time Romo executed such a dramatic a tax raid was about five years ago, she said. "It works," she said. "The message is: Pay your taxes and don't ignore us."