It has been often said that there are two certainties in life, death and taxes. While we hope these certainties are mutually exclusive, property taxes may be the exception. With a sure arrival of a tax bill sometime in October or November and with penalties, interest, and attorney costs that can scare a property owner to death, the annual planning for and paying of property taxes can be an unwelcome event. While there are circumstances that may prevent you from paying your property taxes, the longer you allow your past due property taxes to go unpaid, the more expensive and risky it becomes for you.
What Happens when Property Taxes are Past Due?
Penalty and interest charges will be added to your taxes.
Penalty charges and interest charges will be added to your tax balance. Private attorneys hired by taxing units to collect delinquent accounts can charge an additional penalty to cover their fees. The following table details the potential penalties, interest, and attorney charges imposed on a past due property tax account.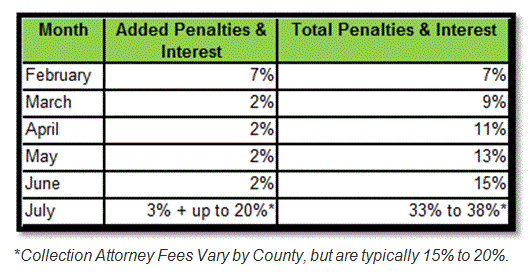 Accounts not paid in full by June 30th of the year in which they become past due are normally referred to a delinquent tax attorney for collection and incur an additional penalty equal to 15% - 20% of the total taxes, penalties and interest due.
Delinquent tax notices will start arriving.
The tax collector will send you at least one notice that your taxes are past due. They often send multiple notices and warnings along with notices from their delinquent tax attorney.
You may have the option to set up an installment plan.
Some tax collectors will allow you to pay delinquent taxes in installments for up to 36 months; however, they are not required to offer this option.
You may be sued!
In many cases the attorney for the tax collector will file a suit against the delinquent property owner. Failure to respond to this suit may result in a judgment against the property for all past due property taxes along with court costs as a result of the tax suit and judgment.
You could lose your property!
In worst case scenarios, your property can be foreclosed upon. By virtue of Section 32 of the Texas tax code, each taxing unit holds a tax lien on each item of taxable property. A tax lien automatically attaches to property on January 1st each year to secure payment of all taxes. This tax lien gives the tax assessor the power to foreclose on the lien and seize the property. A twenty one day notice must be given to the property owner prior to the foreclosure sale.
What other options available to pay property taxes?
Specialized lenders exist who focus solely on property tax lending. These lenders provide an alternative to the lump sum payment of your property taxes. A property tax loan will immediately stop the added penalties, interest, attorney fees, and pending lawsuits for the county. Most lenders offer flexible loan terms with extended payment schedules. Loans are available for almost any type of real estate as long as the borrower is not in bankruptcy and the property is reasonably maintained. This includes residential, commercial, investment properties, and vacant land. Qualifications are easy and credit score is typically not a factor.
A property tax loan may not be right for everyone, especially property owners with taxes due less than $3,000. Additionally, borrowers with good credit may find lower interest rates through their local bank or credit union. There may be other capital sources available so it's important to investigate all your options.
While you might want to put off addressing your past due property taxes, the most expensive decision is to do nothing. With first year penalties of up to 48%, my advice is to address your past due property taxes sooner rather than later.